Ayurclinic Goa welcomes you to our website!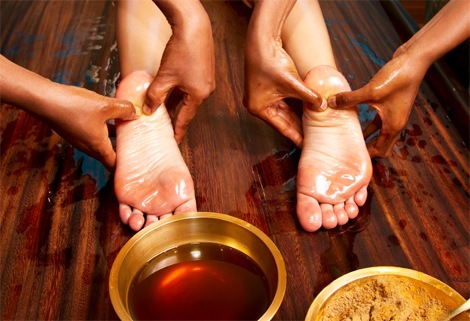 Ayurveda is a Science of life, which not only treats our disease condition but also guides us to remain healthy and avoid health problems. The body is a complex machine which works nonstop from birth till death. But do we give our body the attention that it deserves and requires? Most of us will answer in the negative.
Good Health in Ayurveda means "You do not feel your body, everything is perfect, and your body just works fine."
We at Ayurclinic Goa provide you with the most accurate and thorough diagnosis together with the professional treatment by a caring staff and with the proper ayurvedic oils. The treatment we offer is based on a sound examination of each patient, and each patient is treated for his individual needs. Our services will make you feel fresh, energetic, healthy and fit.
Update: Our team of doctors is now available for Online Consultations. Please contact us to book an appointment.
,
A video introduction to our clinic, our staff, and our services
A video of testimonials from our patients
We have two clinics located in the two prime locations of Goa, Arpora and Mandrem. A visit to any of our two clinics will give you the most sophisticated and rewarding experience of ayurvedic treatment in Goa.
Our
Mandrem Clinic
is located just a kilometer from the beautiful mandrem beach and has a dedicated full-time staff of 2 male and 4 female ayurveda therapist. Visit our clinic at Mandrem for a full range of ayurvedic treatments and massages. We are situated centrally between Ashwem, Morjim and Arambol, all within 3 to 5 kilometers.
For appointments at our Mandrem Clinic please call us:
+91 888 830 7887 or
contact us
.

Our
Arpora Clinic
is located just opposte the beautiful Baga Creek and is blessed with a Buddha Tree at its entrance. Our clinic at Arpora is located within 3 to 6 kilometers from Baga, Anjuna, Vagator and Calangute. The clinic is equipped with 2 male and 3 female dedicated staff.
For appointments at our Arpora Clinic please call us:
+91 963 747 3366 or
contact us
.
For any information about Ayurveda, Doshas, Panchakarma or testimonials please sign up on our forum, where you will meet and talk to Ayurveda lovers from all over the world. It is also possible to address questions to Dr. Rohit and his colleagues in our
forum
.